I found this painting on eBay recently. It's entitled "Hills of Covina, California," and was painted by California artist Gounod Romandy (1893-1942) in 1935.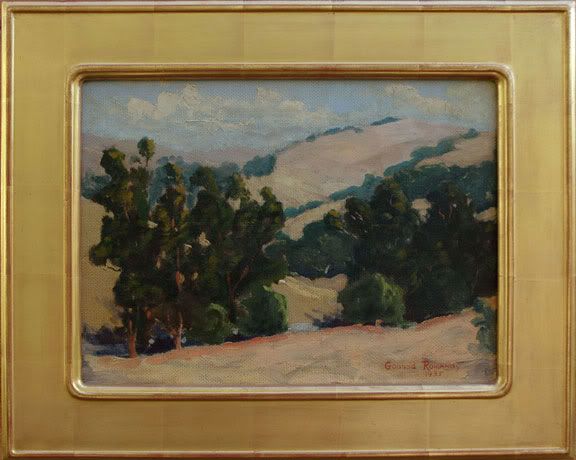 Click image to enlarge
It's only about a mile from our old Covina home. The painting was actually done about 25 years before we lived there, but the vista remained relatively unchanged until the 1970s, when this little dale began to be developed. Back when me and my buddies had those hills all to ourselves, they were alive with coyotes, jackrabbits, pheasants, tarantulas, even the occasional rattlesnake. Today, the hills are completely covered with houses. I'm certain the eucalyptus trees alongside Covina Hills Road in the foreground were still there when I left the area in the early 1980s, but I just checked Google Street View and they are all gone now, too.
I already know I can't afford the painting, but it sure was nice to see our hills in their natural state again. I can even recollect what the place would have smelled like on a beautiful summer's day like this, and call to mind the sound of a gentle breeze blowing through those tall grasses and trees. It really was a wonderful place to grow up.