In 1888, Chicago lumber tycoon Thomas Sanderson Ruddock1 purchased 120 acres2 of land from John Edward Hollenbeck, just east of Phillips's tract. There, Ruddock built his new winter home: "Mountain View."3,4
In pioneer times, the extravagant 3-storey Queen Anne-style mansion2 was the showpiece of the entire Azusa Valley (as the Eastern San Gabriel Valley was called back then).4 According to Covina historian Barbara Ann Hall, Mountain View...
...had 11 bedrooms, 5 bathrooms, and 7 fireplaces of Belgian tile and rosewood. A stained-glass window looked down upon the staircase. There were stained-glass chandeliers in the ballroom. Surrounding the mansion were stables, a carriage house, a bunkhouse, servants' quarters, and a caretaker's cottage. The 800-foot drive was lined with palm trees and roses.2
Thomas Ruddock died in 1890 at the age of 71, and left Mountain View to his wife, Maria Nancy Newell Ruddock (b.1827).1 When she passed away in 1905, son Charles Homer Ruddock (1848-1929) inherited the property.
Ironically, for all its local fame in bygone days, few photographic images of Mountain View were known to have survived. Recently, however, I made the acquaintance of Mary Elarton Kidd – whose great aunt was the last resident of Mountain View – and she has shared with me many photos of the ranch which have never before been seen by the public.
To the best of my knowledge, this is the most detailed picture in existence of Covina's lost Victorian treasure. It shows Mountain View not long after Mary Chrastka acquired the ranch in the early 1930s.5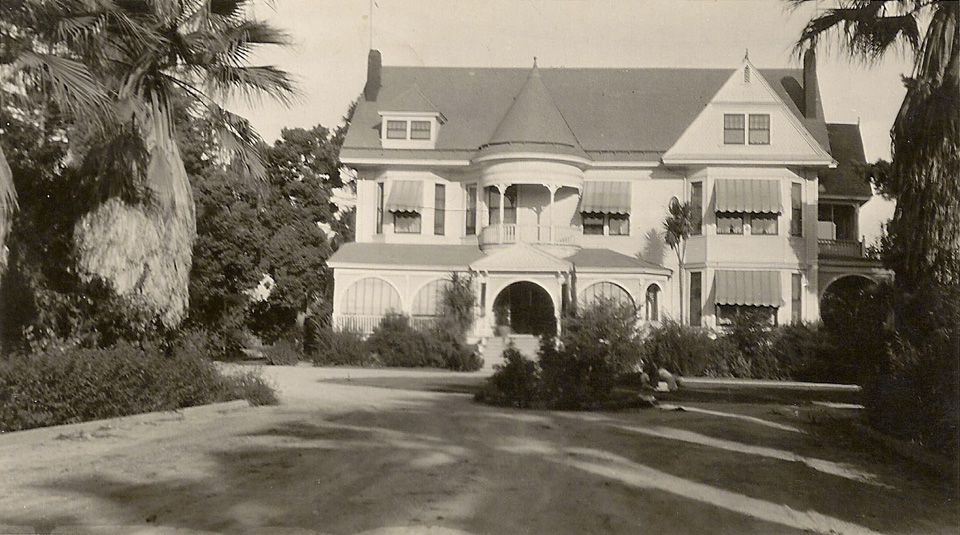 The Ruddock Mansion, 1886-1950. Photo courtesy Mary Kidd. Click image to enlarge.
The entrance to Mountain View, formerly located at 522 North Grand Avenue5 at the eastern end of San Bernardino Road. The mansion itself was located immediately east of the intersection of today's East Wingate Street and South Westridge Avenue.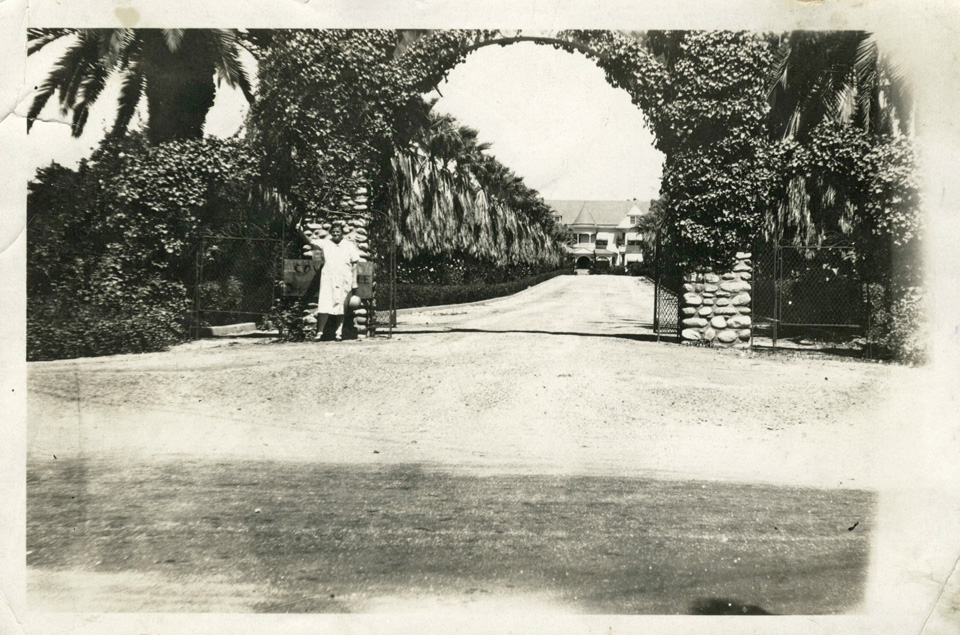 Photo courtesy Mary Kidd.
Planted over 130 years ago, the Washingtonia filifera fan palms that still stand today along East Wingate Street are among the oldest trees in Covina (together with the palms that line Hollenbeck Street). Here they are in the 1940s, when they were already six decades old.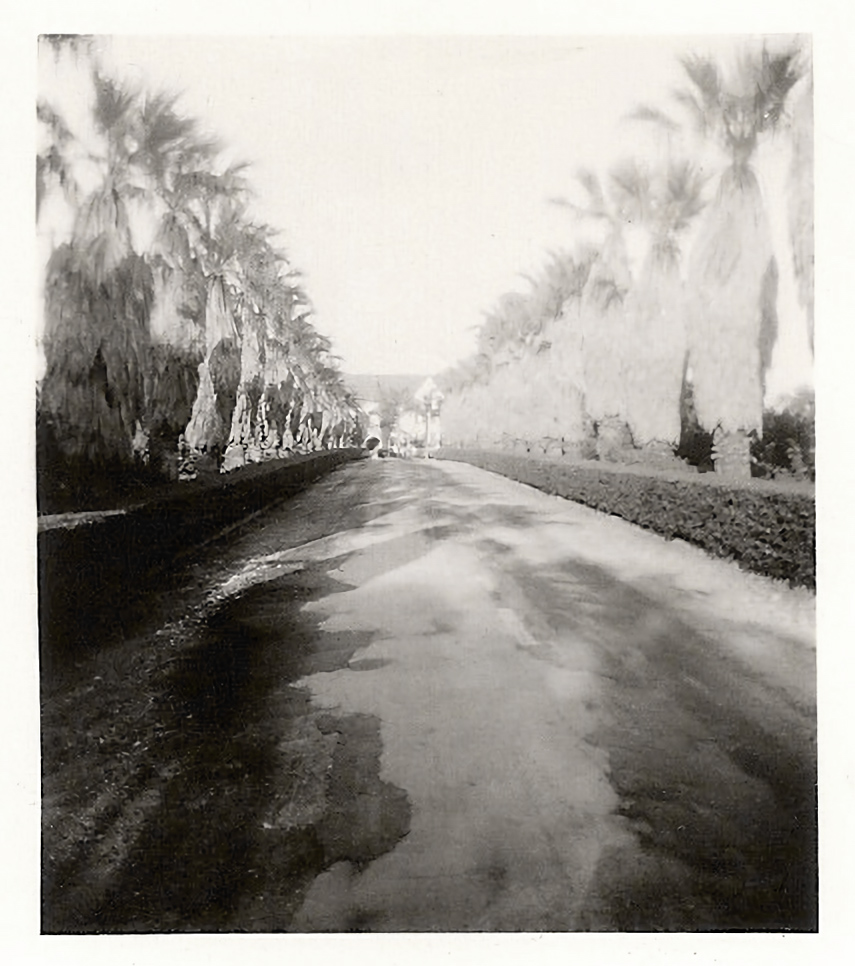 Photo courtesy Mary Kidd.
A Ruddock Company citrus crate label. At its peak – just before the turn of the last century – approximately 9,000 orange and 3,000 lemon trees1 grew on the estate.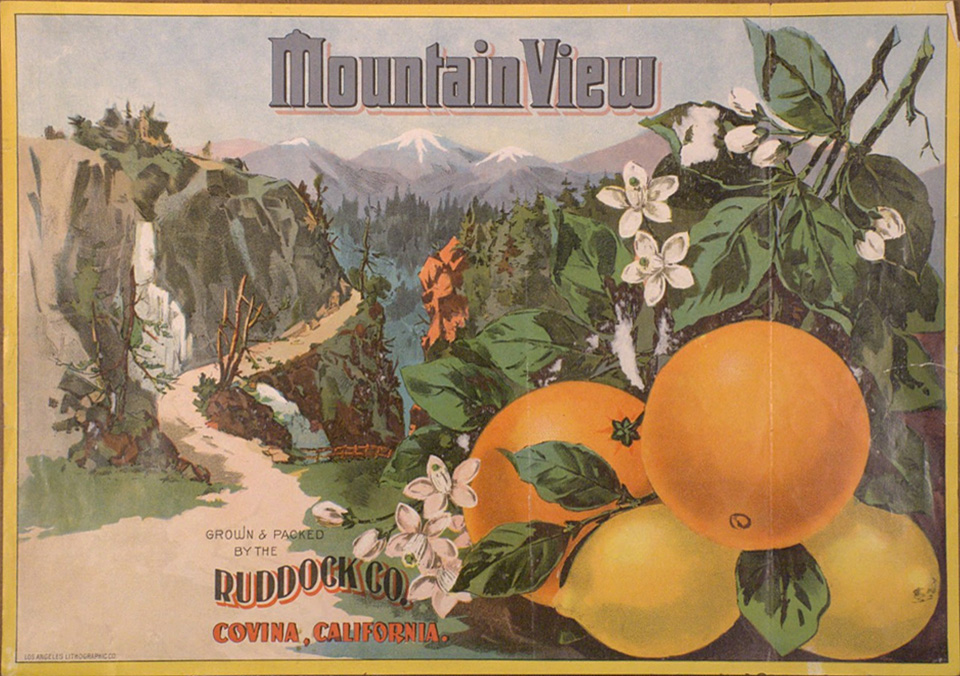 Image courtesy Calisphere.
Continuing on: