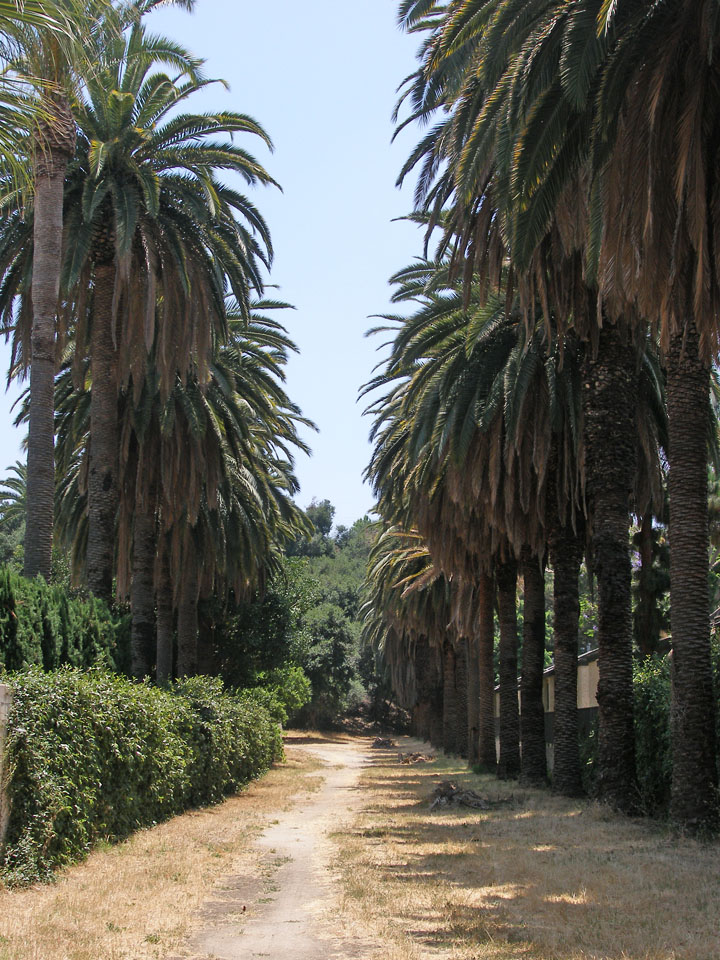 Oak Canyon Road, southeast of Covina, is one of the oldest surveyed roads in the eastern San Gabriel Valley, appearing on county maps dating back to 1898. It was originally the carriageway for a hilltop property belonging to Col. F.M. Chapman, which was part of the Hollenbeck land holdings in the Covina Hills in the 1880s. After Chapman's death, H.M. Houser acquired the property and established a ranch there. In 1925, the California Preparatory School was built on the Houser Ranch property on the bluff overlooking Walnut Creek, and the palm-lined drive became the picturesque gateway to the new campus. (The road's terminus on the school grounds can be seen in the center foreground of this photo.)
I have vivid memories of these palms going back over 50 years. Our bus drove past them every day, for all my 6 grades at Barranca School. Even as a little kid, I could tell that long line of tall palm trees by Covina Hills Road had been there for ages – a lot longer than I'd been alive, that's for sure. All my life I'd been curious about them, but I strictly avoided that road when I was younger...and for good reason.
For probably decades before I became aware of it, Oak Canyon Road had a rather notorious local reputation. Generations of "bad" teenagers took advantage of the secluded byway to drink and make out. The L.A. County Sheriffs patrolled that road constantly, and it was mostly known in my day as a really good place to go if you wanted to get busted. The delinquency problem was solved once and for all, though, when Oak Canyon Road was finally closed to all vehicle traffic in the late 1970s.
The cars and juvies went away, but the palms endured as always; at least some of them did. The trees used to extend in a uniform line all the way from the base of the Walnut Creek bluff to the intersection with Covina Hills Road. Today, however, only the southern half of the palms live on.
This is my favorite picture from my visit last year to this quiet refugium. It was so amazing to finally walk among these palms and contemplate just how ancient they are. They were most likely planted soon after the road was first graded circa 1895. That means they are at least 115 years old now.
If you think about it, that's older than almost every man-made structure in the entire San Gabriel Valley.