In the early Sixties, Los Angeles Dodgers outfielder Wally Moon started a baseball summer camp at the Baptist Seminary in the Covina Hills, only about a mile from our house. Since we were a big "baseball family," it was natural that I attend.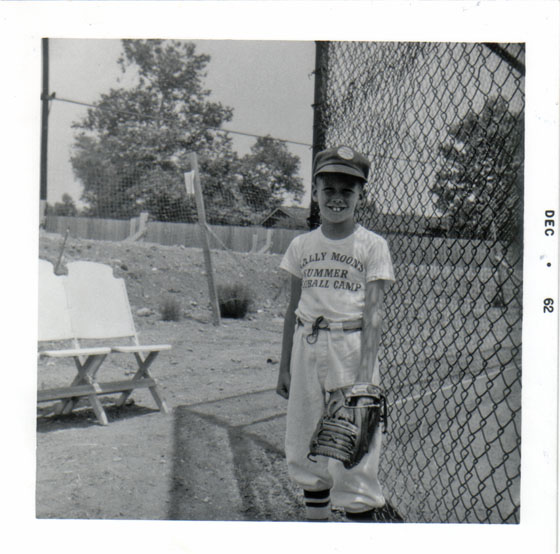 That mitt's bigger than my whole chest!
Recently, I had some old home movies converted into DVDs, and was delighted to discover footage of me playing my first game at Wally Moon's in the summer of '62, when I was 7 going on 8. I have a ton of fond memories about the camp, but it was great to actually see the place again. It reminded me of just how much fun I really had there.
Anyway, my play here is pretty terrible, but don't watch me, watch the surroundings! If you attended Wally Moon's Summer Baseball Camp back then, I'm sure this will bring back great memories for you, too. :-)
Also in those home movies was a clip of me pitching little league at Barranca Park in 1964. Not at the main ballfield, though; it was on the minors' diamond on the grounds of Barranca School. I was a lot better pitcher than I was a batter, but that's not saying much. I did have a pretty good wind-up and delivery, though...