Long before Metrolink, rail transportation played a vital role in Covina's history. In 1876, the Southern Pacific Railroad became the first to connect Los Angeles to a transcontinental rail system, but the line passed through Spadra and Puente to the south. The Atchison, Topeka & Santa Fe Railway arrived in L.A. in 1887, but it, too, bypassed Covina: this time to the north, via Alosta, Glendora and Azusa. It wasn't until September, 1895, that the Southern Pacific opened a spur through Covina (today's Metrolink San Bernardino Line), offering service to Los Angeles and points beyond.
The S.P.'s primary purpose was transporting freight, however, so consequently, people who wished to travel by rail had very limited choices in terms of departure and arrival times. Conveniently-scheduled passenger service wouldn't be available to Covinans for another dozen years, when Henry Huntington's Pacific Electric Railway Company came to town.
The first spike was driven for the P.E. tracks on Badillo Street on November 5, 1903, but the little trolley shown below only ran between Hollenbeck and Barranca Streets. The Covina segment was opened to the rest of the Pacific Electric system on June 5, 1907.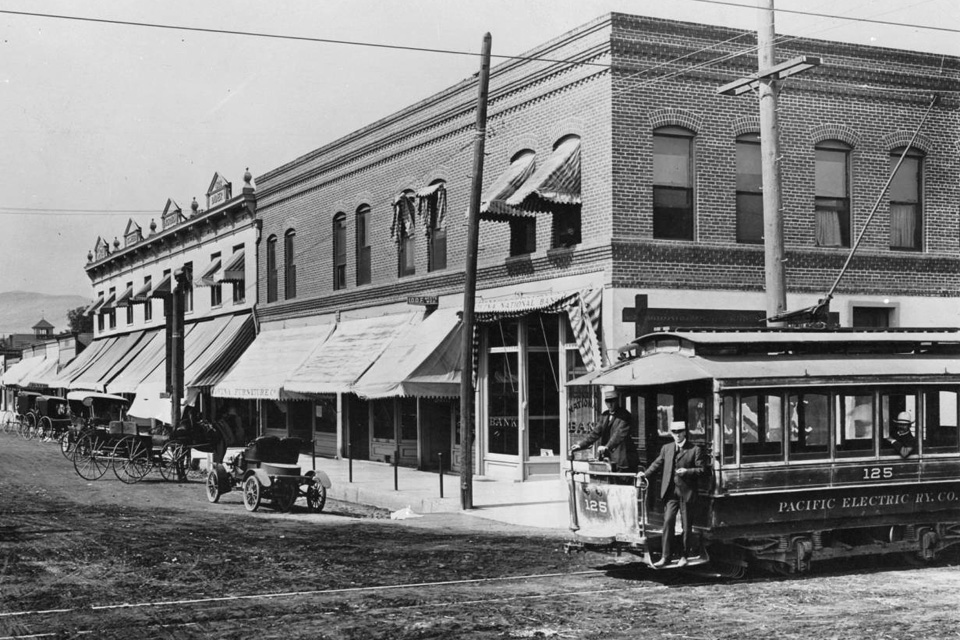 Intersection of Citrus and Badillo, circa 1905. Courtesy USC Digital Library.
An early interurban Pacific Electric train on Badillo Street (below), circa 1910. The original round-trip fare to Los Angeles was 90¢. (Sounds like a bargain, but that's about $25 in today's money.) Ticket in hand, then, a one-way trip to the big city took just under an hour.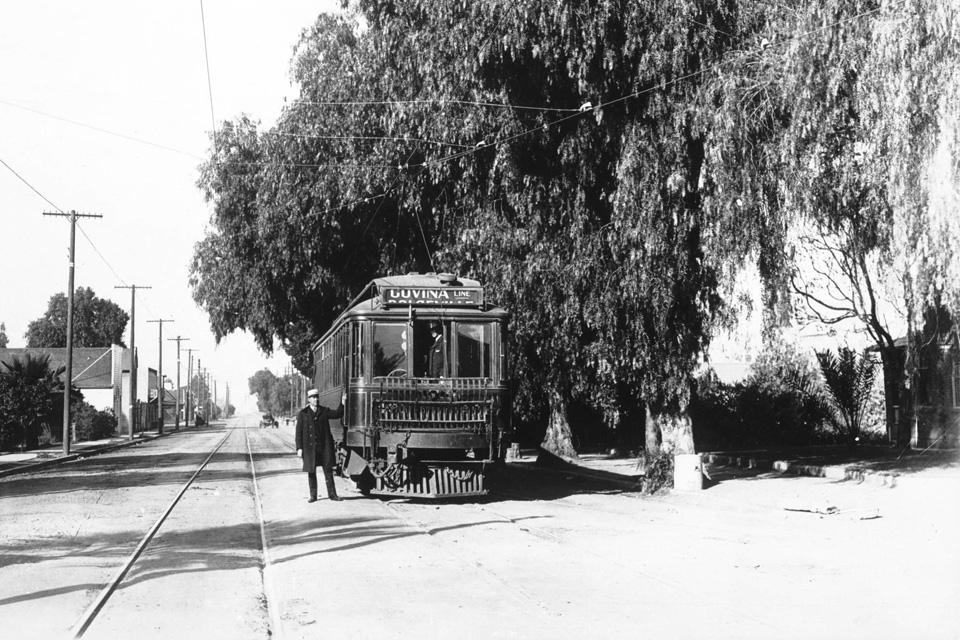 Courtesy USC Digital Library.
Pacific Electric's Covina station, circa 1937. It was located on the north side of East Badillo Street a short distance east of Second Avenue. It was Covina's commuter connection to the P.E. network from 1915 until regularly-scheduled service was discontinued in 1947.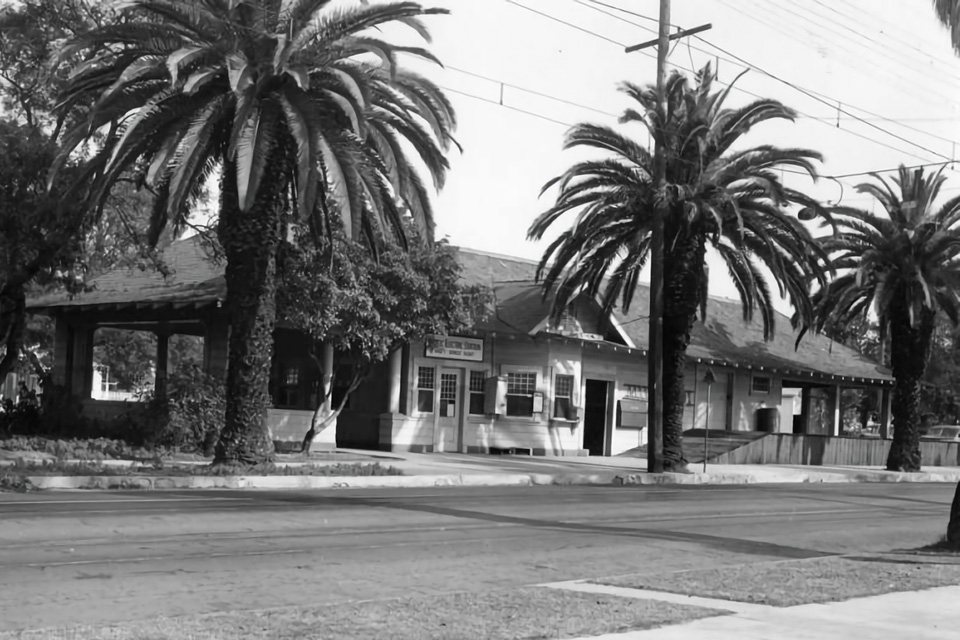 Courtesy Los Angeles Public Library.
Busy scene of Covinans meeting a 3-car eastbound P.E. train on Badillo. Covina station is at right.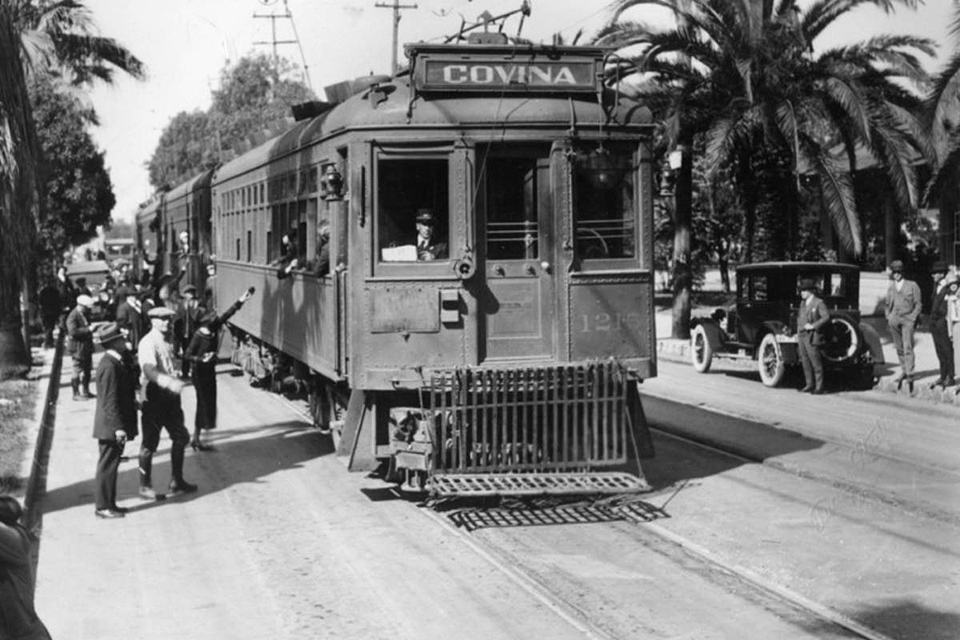 Courtesy Los Angeles Public Library.
Even after scheduled service was discontinued, Pacific Electric still ran trolleys to and from Covina for special events like the Los Angeles County Fair and the Rose Parade. This photo circa 1948 shows one of the last fan runs from Lone Hill Junction in San Dimas as it passed through Charter Oak en route to Covina.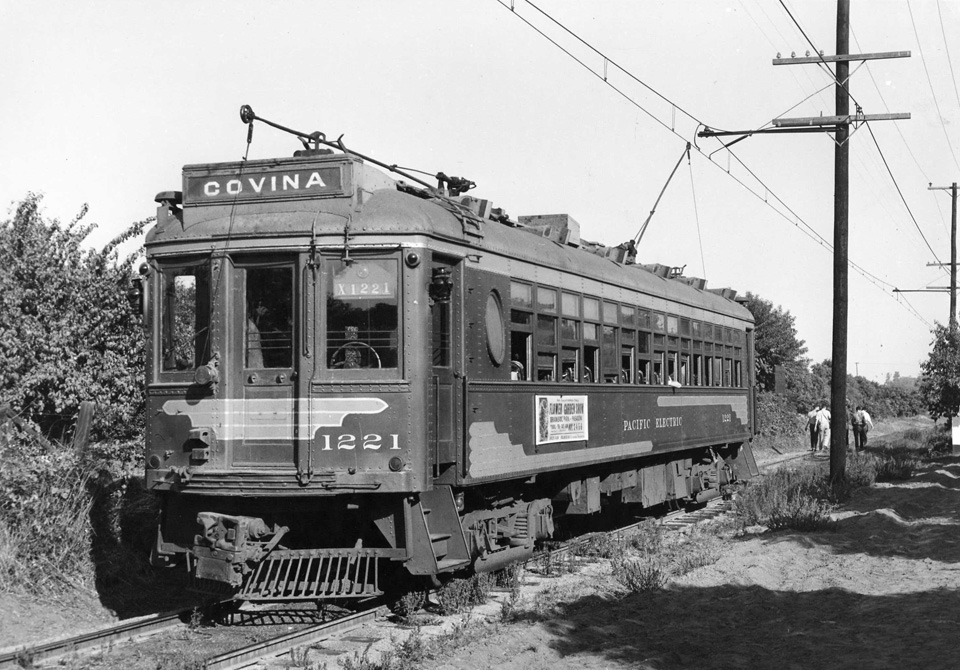 Courtesy Pacific Electric Historical Society, Ralph Cantos Collection.
Then and Now: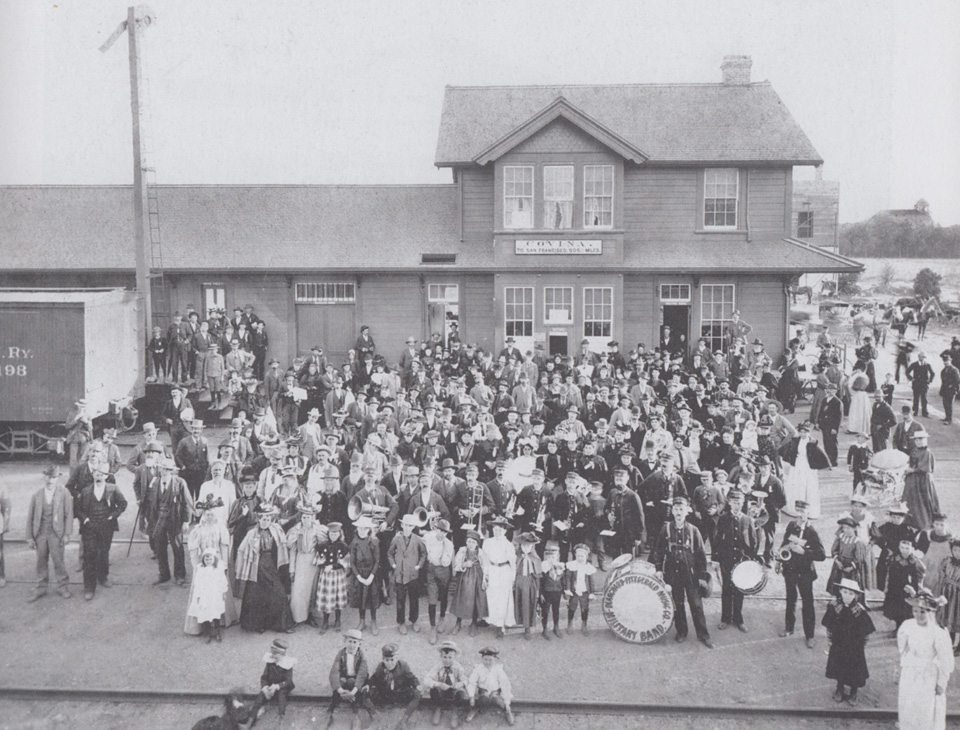 The Covina Southern Pacific depot, 1897. It was located at the top of Second Avenue just north of Front Street, on the opposite side of the tracks from today's Metrolink station.
Source: Images of America: Covina," by Barbara Ann Hall, Ph.D.
Metrolink platform, 2018.