I recently got this little treasure on eBay, and I've been totally tripping on it. It's from my old home town in 1960.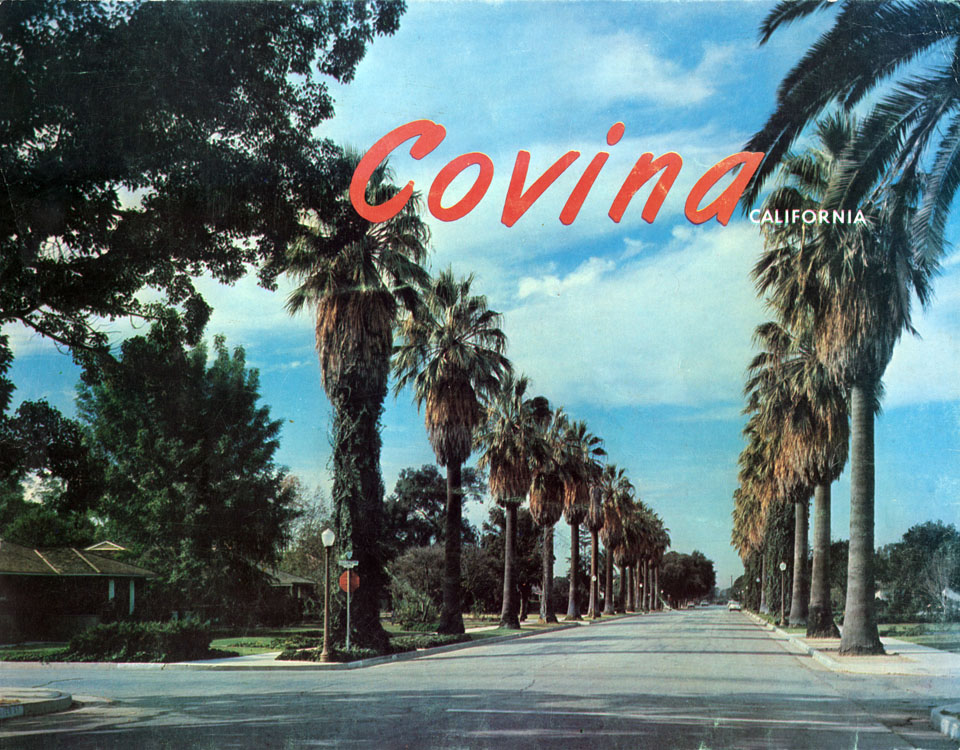 I was born in Covina in 1954, and my family moved there in December, 1959, so this pictorial brochure precisely depicts what my boyhood home looked like back when I first knew the place. It's really blown me away; these are truly images from a Lost World. Here are some that made a particular impression on me.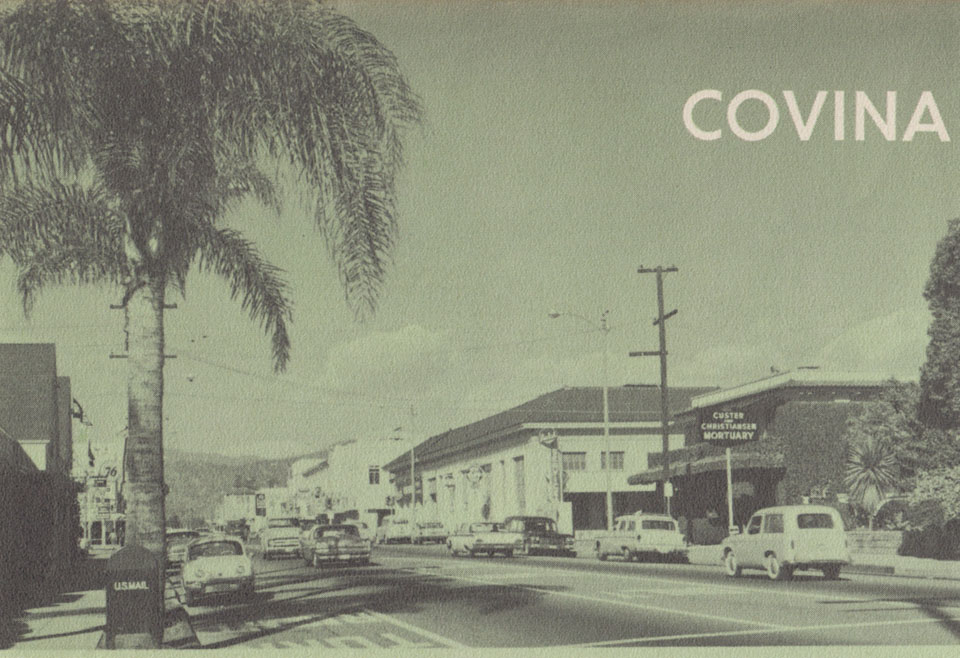 The pamphlet is basically all about suburbia and the automobile. We're 50 years into the Car Culture era in Southern California now, and what follows are glimpses of what it looked like in its earliest incarnation.
Here's the San Bernardino Freeway (then US Highway 99, now Interstate 10) looking westbound from the Barranca Ave overpass. (To orient present-day Angelenos, there's a big In-N-Out Burger now where the offramp was at far left, and that's Eastland Center at right.)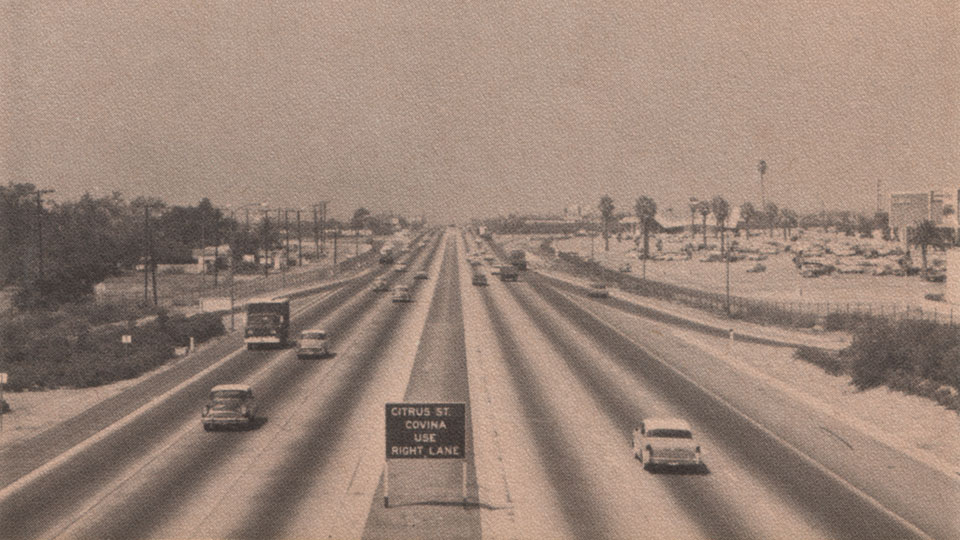 Notice, no crash barrier! All of the L.A. freeways built before 1960 were originally constructed this way. In the mid-'60s, they started installing chain link fence in the center divider as a crash barrier. Oooh, I felt much safer! ;-) Seriously, you took your life in your hands on the freeways in those mostly pre-seat belt days.
Below is Clippinger Chevrolet, at the NW corner of Citrus and San Bernardino. (I was in the same grade as Marilyn Clippinger all through school.) Note the price of a new 1960 model year car: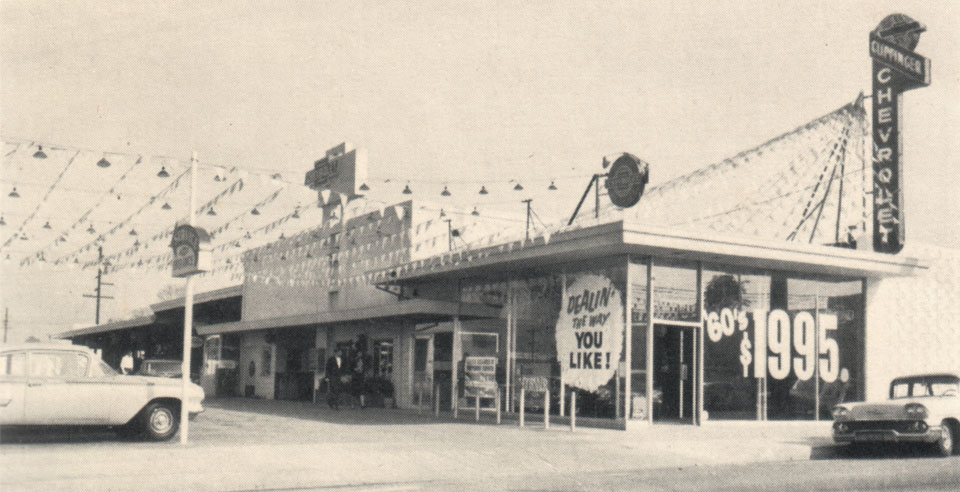 Even ten years later in 1970, you could still buy a new car for $1,995. The Ford Maverick had a $1,995 base price originally, the same as the 1970 Volkswagen Beetle.
Across the street was (is?) Russ Davis Ford. Yep, it's 1960 alright! Great googie-style sign there. It's so old it's almost modern! ;-)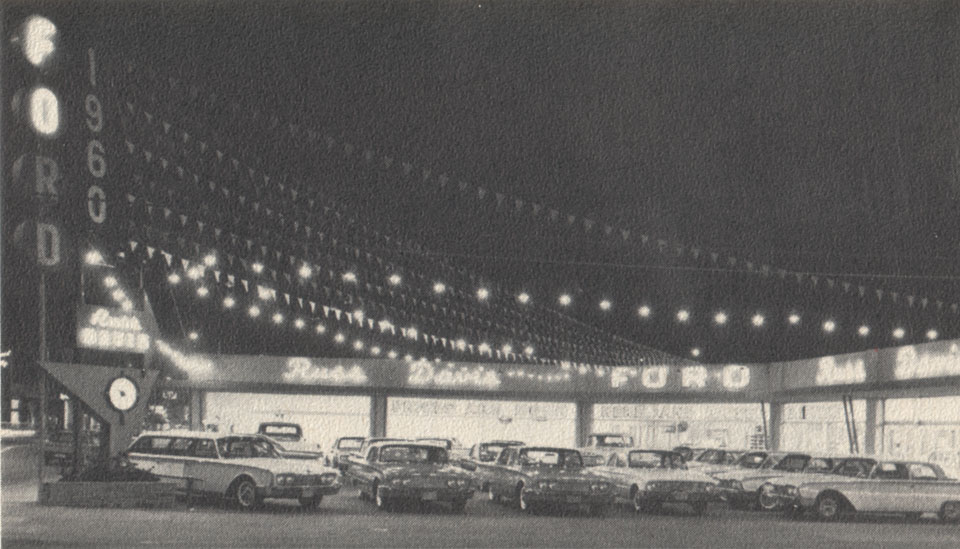 This little service station was one block south of San Bernardino Rd. on the same side of Citrus as the car dealerships. Although it closed ages ago, amazingly, this corner of downtown remains largely unchanged to this day. Anyway, look at the price of gas in 1960! (29.9¢ for regular and 33.9¢ for "ethyl.")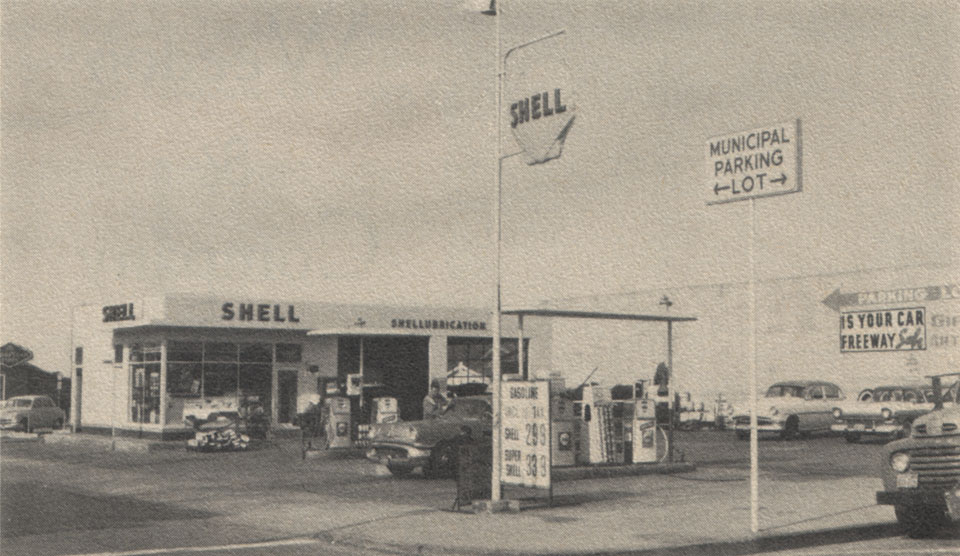 So both new cars and gas cost essentially ten times more now. I don't feel too proud that my country's currency has devalued to this extent in my lifetime (what feels like a short time to me). Today, America isn't ten times better a country than it was back then, that's for sure. In many ways, America was ten times better back then than it is now.
It's become a drive-in world, but there are kinds of drive-ins that don't exist anymore. Our family got our milk delivered to the house by the milkman, of course, but if my mom ever needed extra milk or butter, we'd go to Covina Meadows drive-in dairy, which was in the more rural Charter Oak section of town (nearer to our house).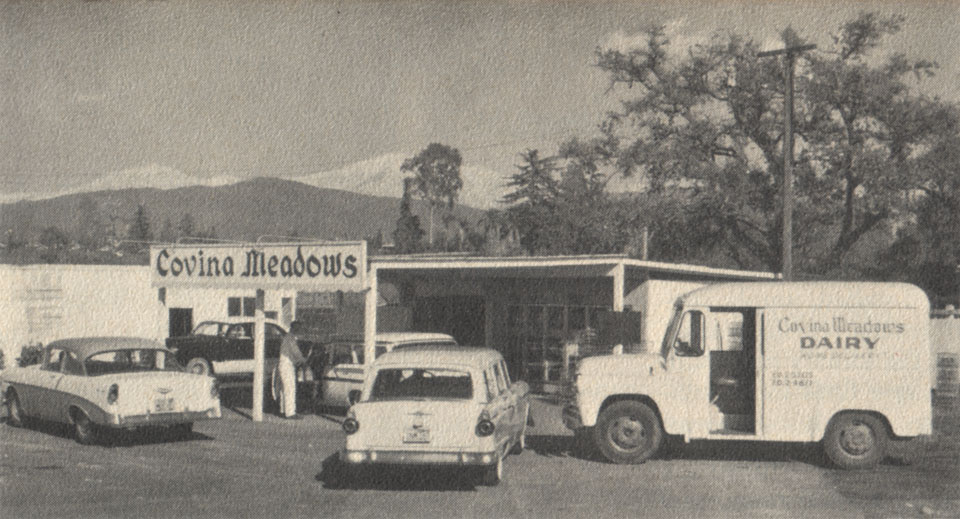 The area was aptly named, as you can see by the splendid live oak in the background. That tree's long-gone, though. Nothing but condos now on the NE corner of Glendora and Badillo. No, it's ALL long-gone, actually. *sigh* The town AND the world I grew up in truly exists no more.
The rest of this is just miscellany that came to mind while I was looking through the brochure. It will probably be interesting only to those who have also lived in the Covina area over the years. (If any ever read this.)
What surprised me the most when I got this booklet was discovering a picture of my first-grade class in Room 2 at Barranca School! (I was in first in 1960-61).
Although I don't see me in this photo, I think that might be my childhood-long friend Richard there in the back on the right. I think I also see little Trudy Williams, too (left of center with the ribbon in her blond hair), Ann Border in profile behind her, and Tom Greeley in the foreground. But that's definitely Mrs. Chambers. I'll never forget her as long as I live.
A division of Aerojet General moved in to the old Grammar School some years before we lived in Covina. It was always a mystery to me what went on in there. (I think a lot of other people wondered, too.)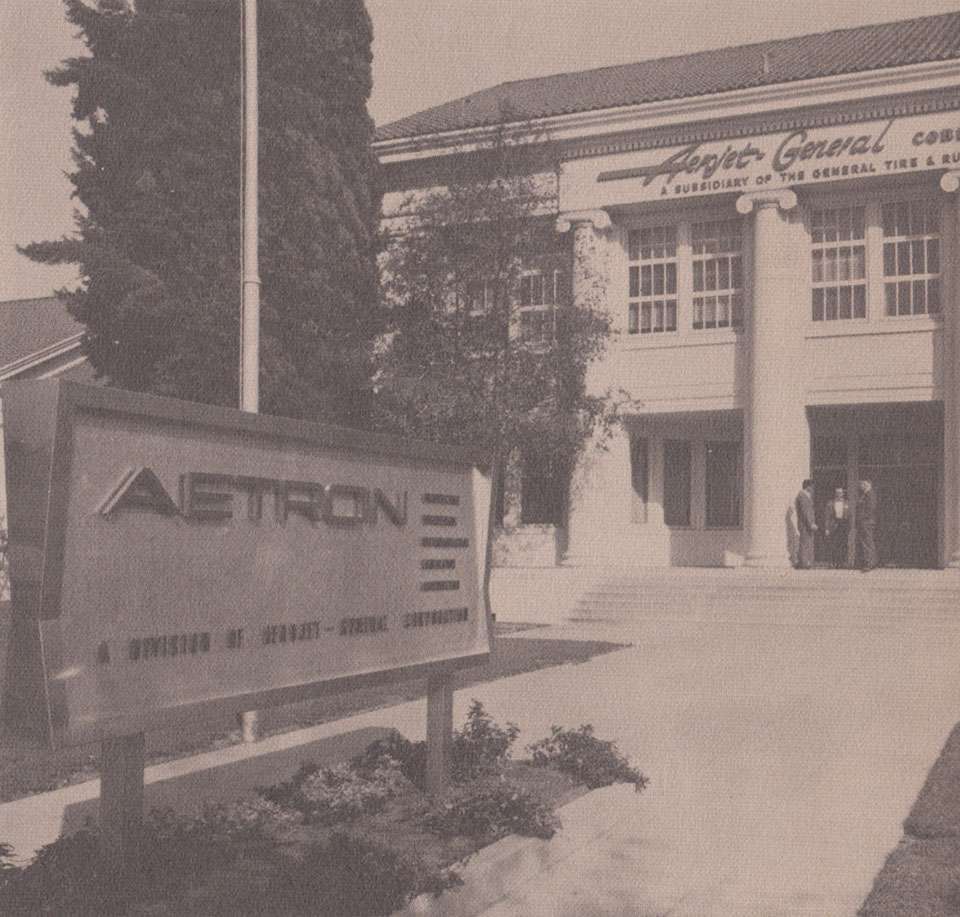 "Cheese it, the cops!" Actually, those '60 Chevy patrol cars were all muscle. If they flashed you the red light, you may as well just pull over, you weren't going to get away. ;-)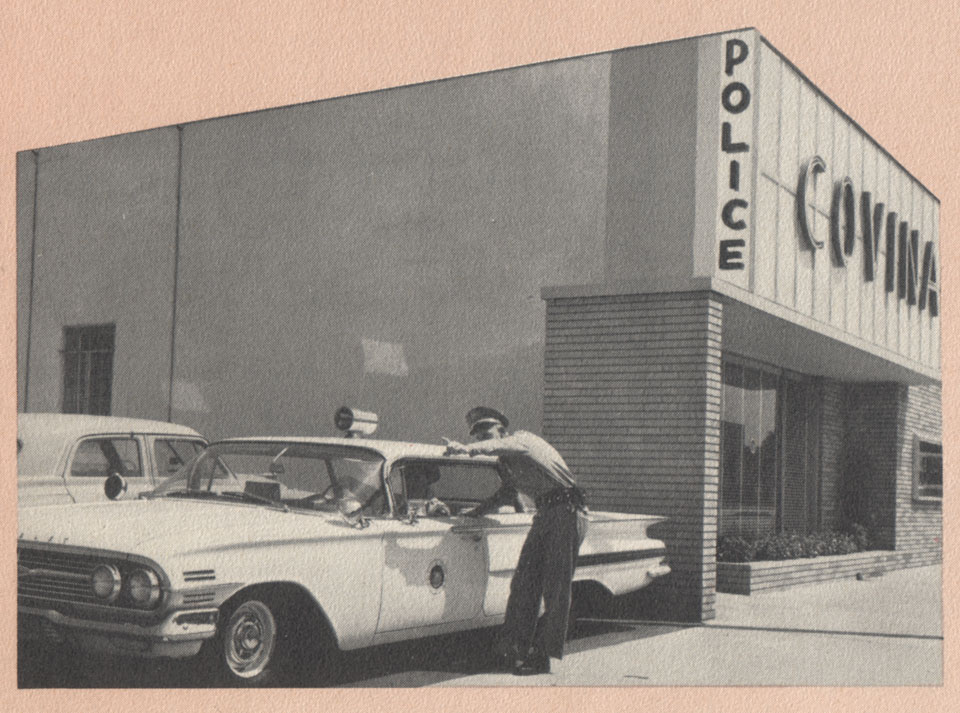 This Alpha Beta was on the SW corner of Grand Ave. and Covina Blvd. (there was another on Citrus in Shoppers Lane). This was one of the few local supermarkets that really retained its Sixties interior over the years. Even as late as the '80s, it was always like the old Alpha Beta in there. I remember it even still had its old vacuum tube tester at the front of the store!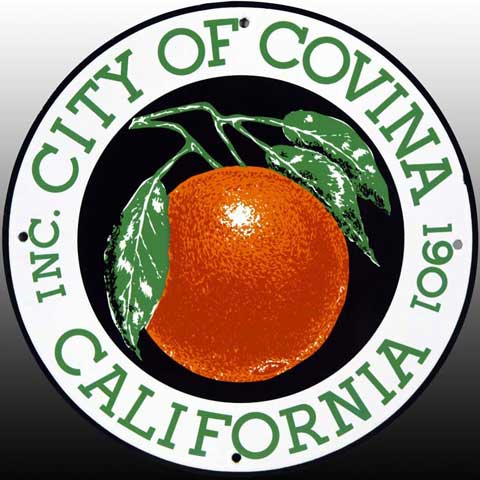 This is the Mutual Savings building. I don't know what it is today, and I don't care. This was Mutual Savings, and it will always be Mutual Savings. I had my first bank account there, which I kept open until I moved away from Covina 20 years later.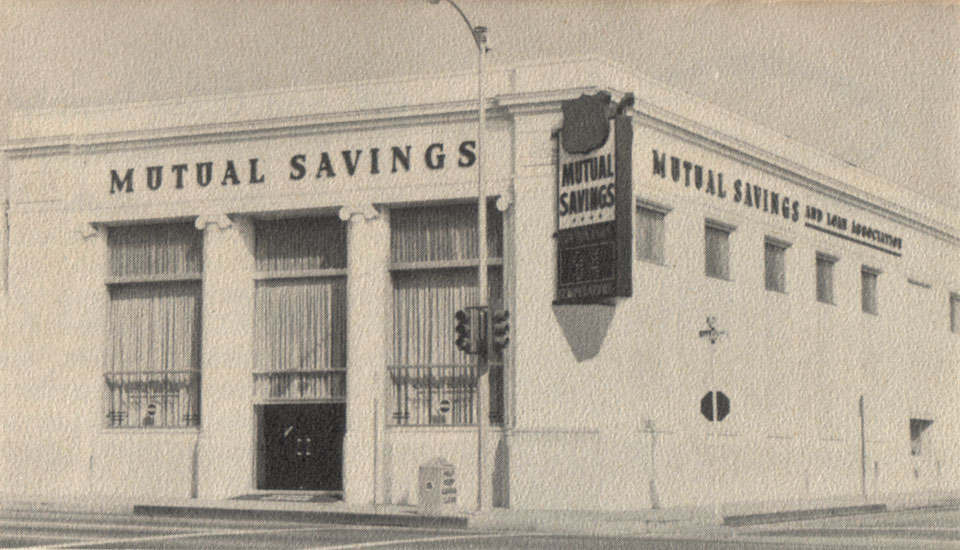 As a kid, I was fascinated by the bank's big digital clock. It had a readout inside the building (which you can see in the far corner), and below it was a see-through box housing the clock's very-much-analog inner workings. It was like big old brass relays and circuit breakers in a dense network of copper wires, and the mechanism would click and spark as the minutes passed - it was like the sound of Robby The Robot from Forbidden Planet. That clock was totally bitchen!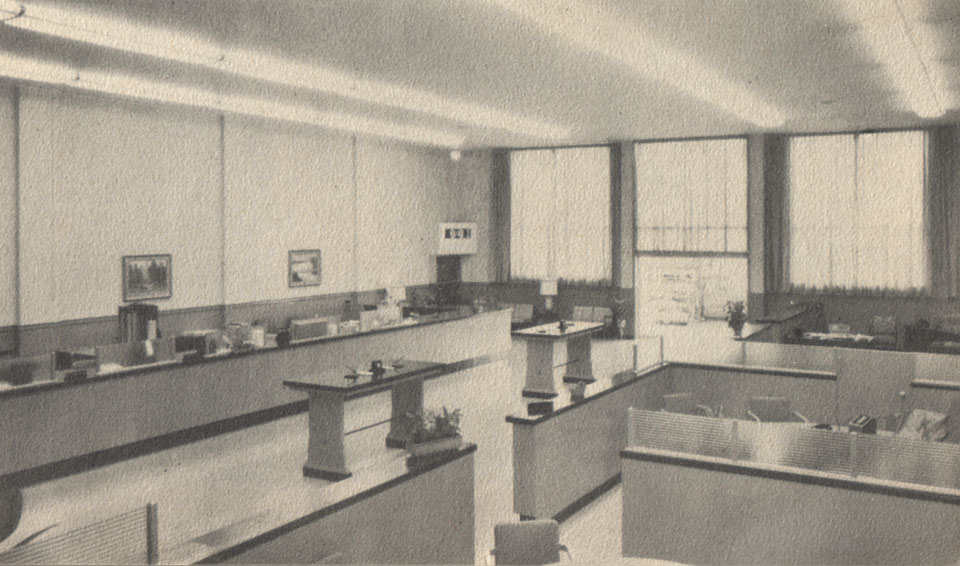 Here's the Rexall that was on Citrus a few doors up from the theater.
This is an old Covina landmark that you almost never see pictures of: the original Reynold's Buick building, which was on the SE corner of Citrus and Badillo for 50 years. The founder's son moved the dealership farther down Citrus, the old building was razed, and some faceless office building now occupies the former Reynolds property.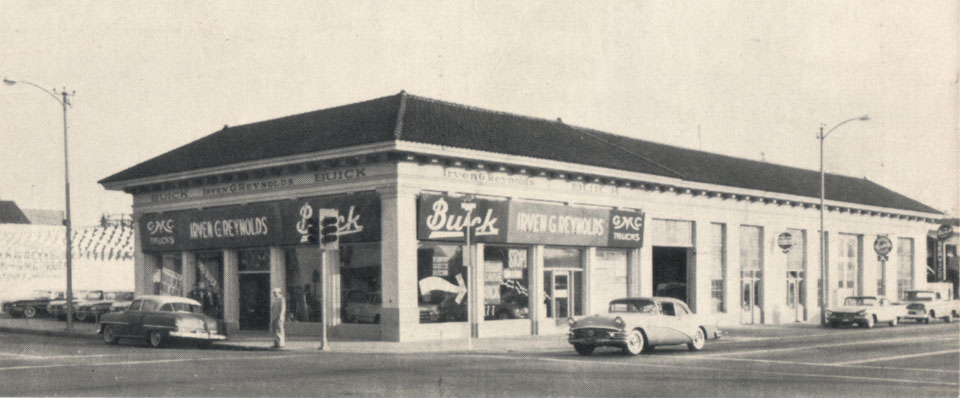 And finally, we look at a couple of Covina institutions that haven't changed much at all over the years. Bob Conlon's Tire Service on Badillo...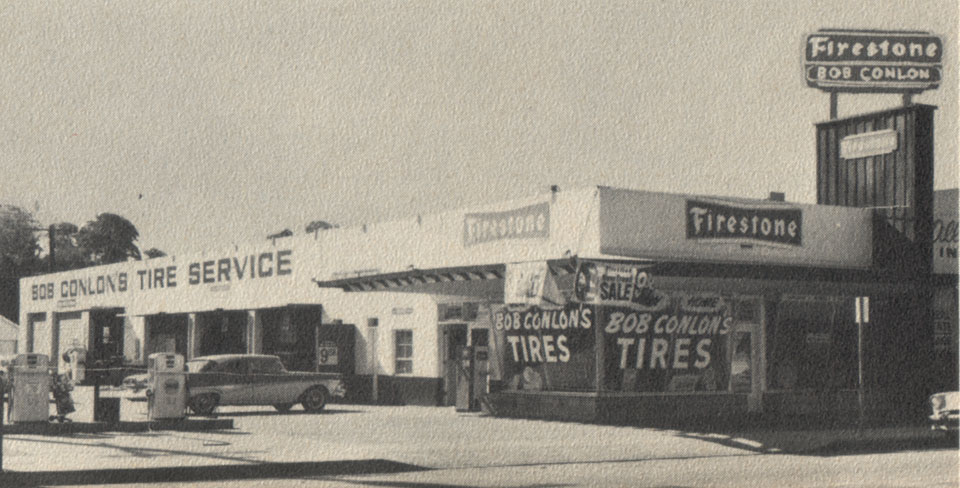 ...and Custer's downtown: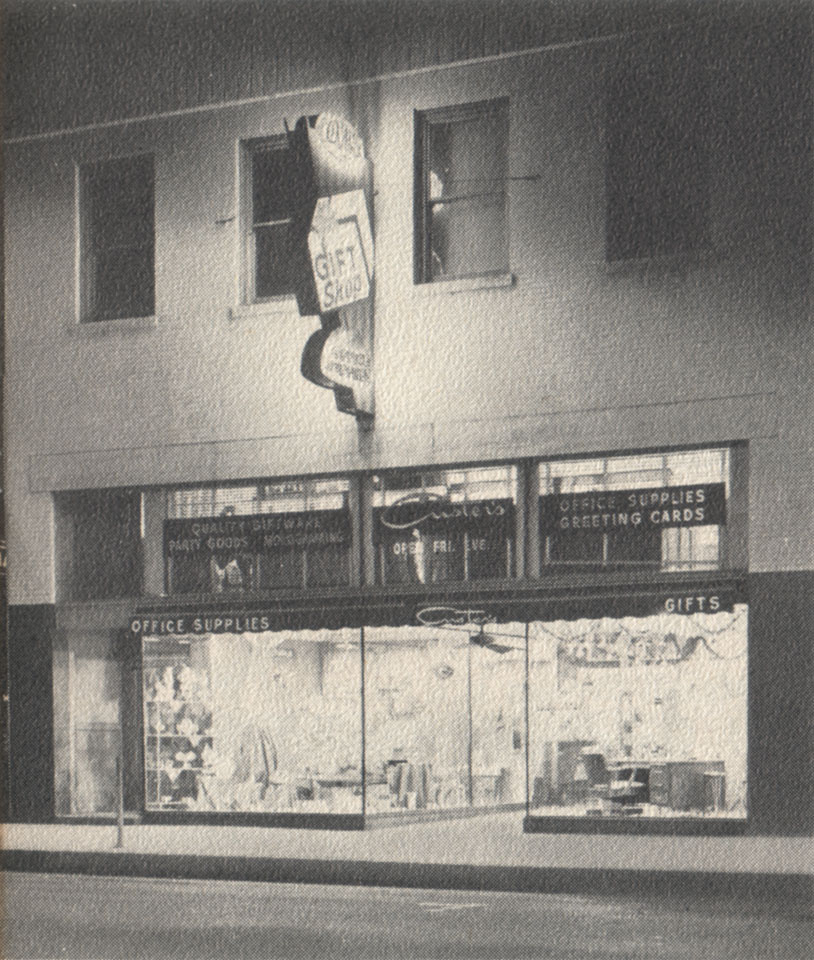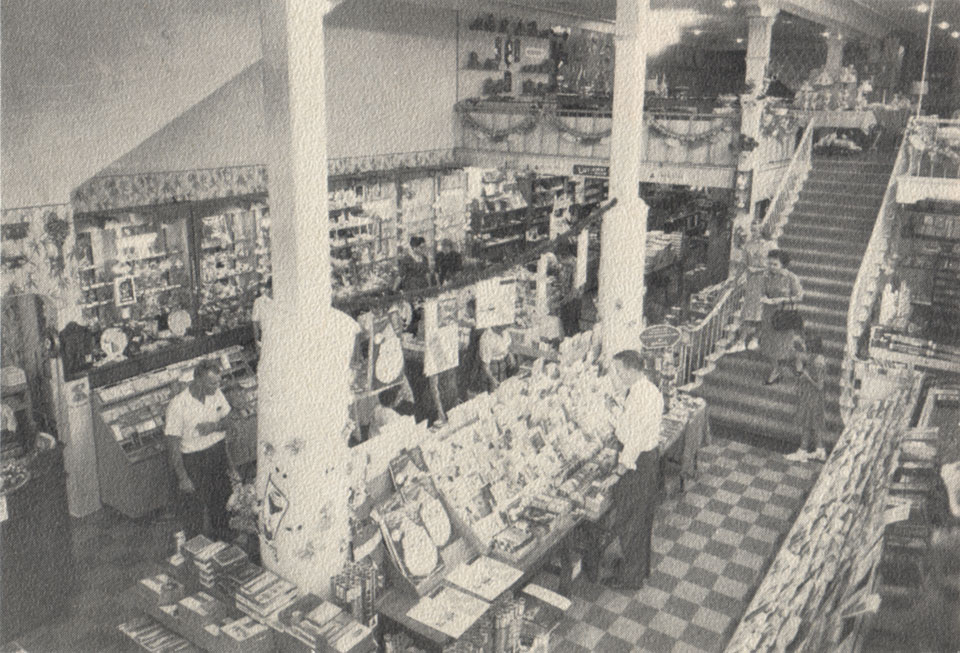 Last time I was in Covina was 1999, though. Conlon's and Custer's might not be like that anymore. Eventually everything in Covina will have changed, and the way things are going in this country in general, I doubt if much of it will be for the better.